News
Dec 14
Red Dog's Jingle Jog was held this year on Dec11th. The Dog Days group and friends met behind Kizer Cummings for a group photo before running up and down Mass. St. (click to enlarge photo, Jerry Henley photo) | more photos | Channel 6 video |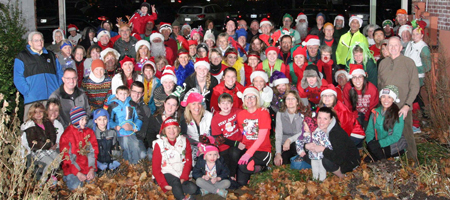 Dec 13
After 40 years, this was the last Chili Run as the MARA Grand Prix Series. Interest in the Grand Prix had declined to the point 2015 will be the last year. Races will be designated for Grand Prix points, but next December there won't be a Chili Run nor awards ceremony. photos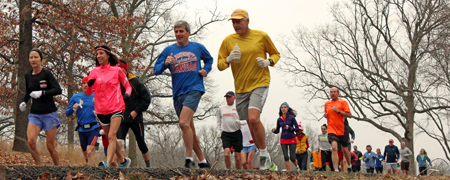 Dec 12
Journey, a new video by French trail runner and amateur filmmaker Guillaume Arthus, 23, explores the grandeur of the American West and celebrates the adventure of the trail-running life.
Arthus traveled to 26 National Parks in 47 days this summer, running approximately 500 trail miles in the process. Wanting to "share his passion for exploring the best running trails in the U.S.," he says, he edited footage from his trip into a montage of stunning panoramas, joyful action shots and reflections on trail running.
Dec 10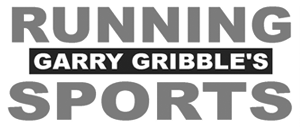 There's a great sale at Garry Gribble's Running Sports now through next Tuesday (12/16):

25% Off all apparel and nutritional items;

25% Off the lowest marked price on any sale items;

50% Off BOB strollers(!);  and
Buy 3 Get 1 Free on all Feetures, Balega, Swiftwick, or Smartwool socks (no mixing)

Some items on our sale racks are ringing up at less than $10, so it's worth a trip in to look around.
Dec 8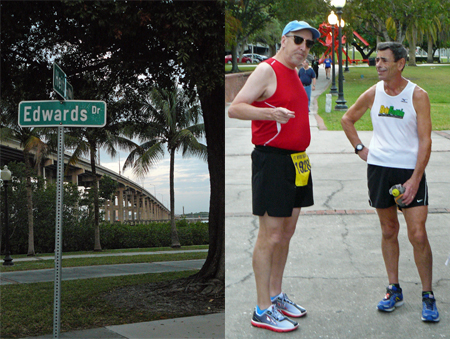 To qualify for the National Senior Games in 2015, I needed find a 10K to run under the 49:45 standard. Florida was the place and the Ft. Myers River Run was the event. Two nice surprises for a road trip - you would think a course would be flat, but the Ft. Myers Track Club ran the race over the two bridges over the Caloosahatchee River, each about a mile in length and added the elevation changes (photo on left is from the finish line). And then learned that John Rinkenbaugh, who used to work for Kansas City and Topeka televison stations and a Lawrence Sandrat now manages the RunFlorida on McGregor store in Ft. Myers (above, John in red). I did qualify and will join Dee at Nationals next July. - Gene Wee
more photos
Dec 6
Sat, Dec 6, Rim Rock Farm will host another national cross country championship. This time it is the AAU Championship for youth (18 and under). On Nov 22 Rim Rock Farm, one of these best cross country courses in the nation, hosted the NAIA Championships.

Dec 2
Is 10,000 hours all I need to run a faster marathon?. » More
---

A video by Billy Yang on Sally McRae's Western States 100:
---

Dec 1
Women runners are different than men. Get the scoop on the most common women-specific running injuries, including symptoms, causes and treatments. » More
(from Active.com, Jason R. Karp)