News
Mar 30
KC Film Fest: The Barkley Marathons -
Every year 40 runners come from around the world to a small town in Tennessee to test their limits at a cult-like, quirky, and virtually impossible trail race. With a secret application process, unknown start time, and a course that changes every year, The Barkley Marathons has only had 10 people finish in 25 years. Inspired by a historic prison escape gone awry, what follows is an oddly inspiring story where pain has value, failure is spectacular, and it only costs $1.60. Tickets
Mar 28

Photos from the Rebel 5K Run this morning at the Clinton Lake Softball Complex. Results
Mar 24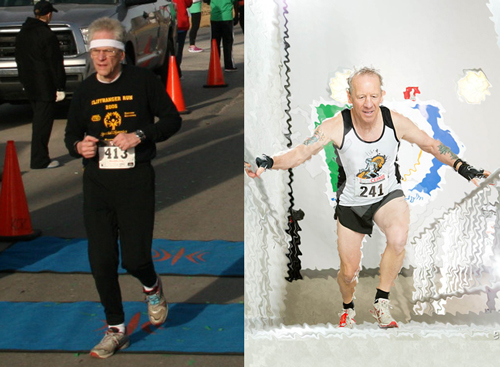 Recent results: Bill Kinnersley (left) took 2nd in the M70 category at the Whiskey Run 5K in KC on Mar 15. Stair climbing ace Keith Dowell (right) won the M60-64 race at the Des Moines Fight for Air Stair Climb on Mar 22.
Mar 20
Great Britain has one of the world's strongest—and oldest—traditions of mountain running, or fell running, as the sport is called in that country. In this video from Salomon TV, Rickey Gates, a contributing editor with Trail Runner,heads to the epicenter of English fell running, the Lake District. There, he runs with some of Great Britain's top runners and talks to legends of the fells like Joss Naylor, Billy Bland and Kenny Stuart.
Mar 19
The Run for Life 10 Mile is back in Topeka on Apr 4th after not being held in 2014. Dave Halferty is helping as the race director.
Today's Throwback Thursday events focus on the 10 mile runs from 2001 and 2002 (then called the Winnie Hesse Memorial Run for the Heart).
Mar 14
The Lawrence Trail Hawks have been celebrating Pi Day for several years. This year was the special date for the century: Mar 14, 2015 (as in 3.14.15) also being on a Saturday. The more precise pi number could have been celebrated at 9:26 am (3.14.15926...) but runners were already out on the course. The Trail Hawk tradition is the 13.1 mile river rotation run (out-and-back loops on the river trails along with a Pi Mile (3.1 miles). The local traditions is followed by eating pies along with the top finishers getting pie plates. Photos (by Kristi Mayo, Mile 90 Photography)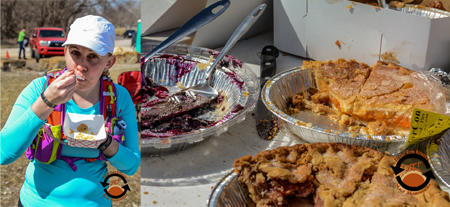 Mar 12
Wonder if the Trail Running Film Festival will be coming to the Midwest this fall?
Mar 9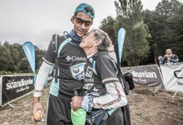 At 80 years of age, Elisa Forti crossed the finish line of 'El Cruce' earlier last month. She had run for three days, crossing from Argentina to Chile, through the Andes mountains.
This arresting image was taken shorty after. It captures that familiar cocktail of relief, exhaustion, and endorphins just beginning to take a grip on the body. The feeling of having given a race everything. Or just, more simply, a feeling of being alive. more (Matthew Maynard, 2/25/14, Ultrarunning Magazine)
Mar 7
Scenes from the Shamrock Shuffle on the river levee in north Lawrence this morning. Results