News
June 28
Why Masters Runners Should Try Longer Training Cycles.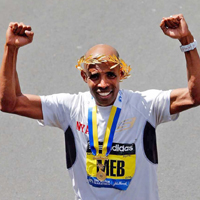 Before he made the 2004 Olympic team in the marathon, Meb Keflezighi followed a typical elite's weekly schedule. He did his longest run of the week on Sundays, an interval session on Tuesdays, and a tempo run on Fridays.
But 12 years later, in his preparation for the 2016 Olympic Marathon Trials, Keflezighi's weekly schedule was anything but typical. In fact, he didn't have a weekly schedule. Instead, he trained on a nine-day cycle. In each cycle, he did his three mainstays—long run, intervals, tempo run—but he took two recovery days after each. more
(by Scott Douglas Mar 31, 2016, Runner's World)
June 26
Rest Days and Recovery Runs: What You Need to Know - Take planned rest days when you are healthy, or you will be taking forced rest days when you are injured.
Injuries are the Trojan Horses of trail running. Like in the city of Troy, everything in your body can seem fine, until things suddenly become very, very bad. And in both scenarios, without vigilance, things will not end well for any Achilles involved. more
(by David Roche, Trail Runner, June 20, 2016)

June 19
Brenda Groskinsky was back in Oregon July 17-18 participating in the Wild Rogue Relay, a 218.3 mile relay from Applegate Lake to Brookings, Oregon. (Brenda is in the middle with the red coat). Her usual team did not get into the Hood to Coast Relay this year. This new group entered this other event with spectacular scenery along the way. Imagine wearing these jackets in Lawrence right now?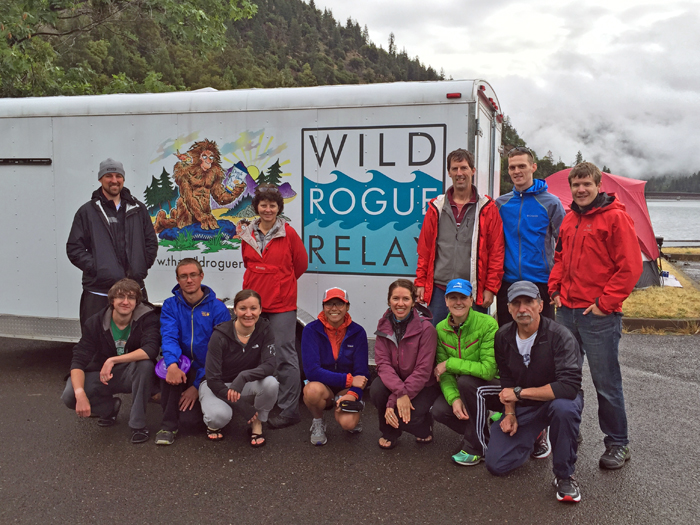 June 18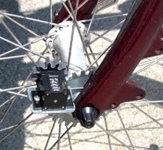 Elite Course Measurer: "I'm a Real Pain for Some Race Directors". A group of highly obsessive, perfectionist-leaning individuals spend untold hours calculating and calibrating race routes. more (by Blane Bachelor, Runner's World, June 15, 2016)
June 16
Just in - Four times this summer Ad Astra Running will conduct a timed 5K over the same course so you can track your progress.  The first free 5K is this Thurs, June 16th, at 6:00 pm.  Meet at the store and warm-up together en route to the starting line in north Lawrence (see course map).  After the run and a cool down, enjoy a drink on the patio of the new Levee Cafe before walking back to the store.
June 11
Bill's Take: on the Leawood Rotary 5K. Bill Kinnersley took 1st in the M70+ category. Good job, Bill.
Scenes from the Tonganoxie Library Run. (left) One runner in the fun run created two-way traffic at the turnaround; (right) 5K and 10K participants ran by the K Henry mural to finish in front of the library. Tonganoxie was celebrating its sesquicentennial. (more photos)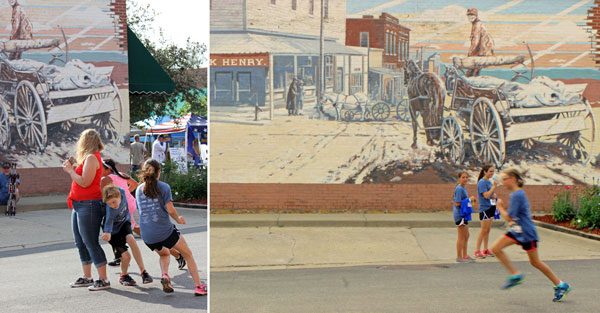 Congratulations to Lori and Don Cackler at the Smoky Hill River Festival 2 Mile. Lori placed 3rd in F60-69 and Don placed 4th in M60-69. Rome Poracsky of Lawrence took 3rd in M40-49.



June 10
Ad Astra Running Store is moving to 734 Mass. as reported by the Lawrence Journal World. more
June 9

The NCAA track & field championships are being televised this week; day 1, last night, had some outstanding semifinal performances.

Here is the remaining schedule:

Thurs, June 9:7:30-10:30, on ESPN
Fri, June 10: 7:30-10:00, on ESPN (WOW 33 and 233)
Sat, June 11: 5:30-8:00, on ESPN
June 7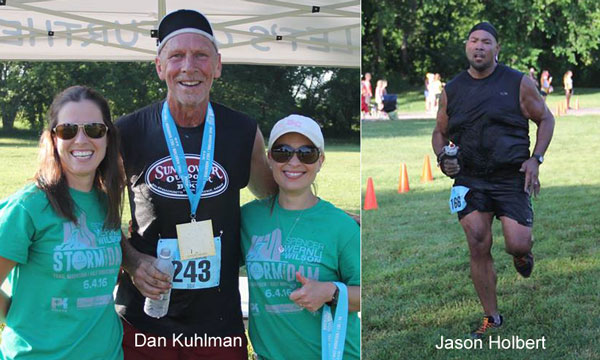 Last weekend was a busy, busy weekend for competitive events. Dan Kuhlman won the 10K Storm the Dam Trail Run at El Dorado on Saturday. He came to run at the invitation of club treasurer Jason Holbert, who has run the event many times also set a PR. results
June 6
Congratulations to Keith Dowell on his first place in M60 at the Hobbs War Eagle Tail Twister 25K Trail Race in Rogers, AR.
June 5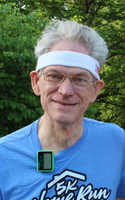 Bill Kinnersley, club member and former president, likes to travel to the smaller, less Big Show 5Ks at least monthly in the Topeka - KC area.  Many of these have under 200 participants and they all have lots of local color.  RunLawrence will publish Bill's reviews of these races and perhaps they will encourage others to travel to and enjoy the unique qualities of each of these events - maybe a refreshing change from the cookie-cutter races we all attend.
Check out Bill's report on yesterday's Crazy Cow 5K in Basehor.
June 4
Things Ira Glass learned - from Red Dog. The first summer Dog Days Fun Run started in front off the Lied Center. If you want to learn from Red Dog (Gardner) and Julie Ranjbar, the first workout is Mon, June 6th, 6 am at the Lawrence High School track. more photos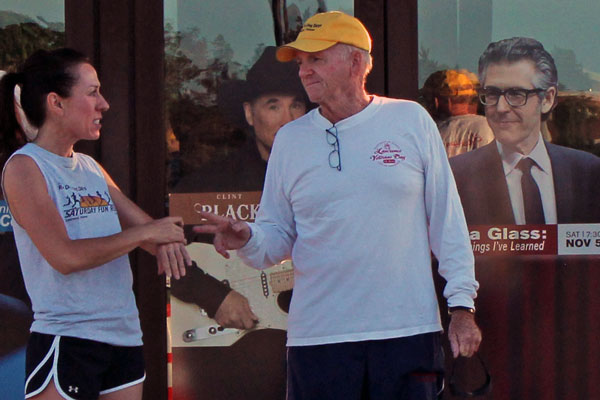 Congratulations to these Lawrence area runners and runLawrence members on their top four placings at the Hospital Hill races today.

Half Marathon:
Matt O'Reilly, Lawrence, 2nd M30-34, 1:27:15
Jack Angell, Tonganoxie, 1st M Masters, 1:27:53
Matthew Broussard, Lawrence, 4th M25-29, 1:28:06
Susie Fagan, Lawrence, 1st F Masters, 1:43:10 (photo)
Jessica Bailey, Pomona, 4th F40-44, 1:49:16
Lezlee Jones, Topeka, 2nd F45-49, 1:49:29
Pam Perica, Bonner Springs, 1st, F60-64, 1:49:29
10K:
David Strange, Basehor, 1st M40-44, 44:17
Doug Hartwell, 2nd M25-29, 47:35
Brittany Hartwell, Lawrence, 1st F25-29, 47:51
Starla Jones, Tonganoxie, 2nd F-Masters, 48:44
Heidi Matsakis, Lawrence, 2nd F35-39, 49:05
Kenneth Johnson, Lawrence, 1st M65-59, 49:48
Maurice Monteau, Lawrence, 4th M40-44, 50:18
John Frydman, Lawrence, 2nd M55-59, 50:58
Melissa Spratt, Ottawa, 1st F55-59, 52:25
Owen Ackley, Lawrence, 1st M-9, 1:16:08
Congratulations to John Huchingson (Lawrence) on placing 2nd among age-graded masters at the Wichita River Run 2 Mile this morning.

May 31

Red Dog's Dog Days, the annual summer community workout begins this Sat, June 4th at the Lied Center with two sessions: 7:00 am and 7:45 am. Saturdays are the fun runs. The regular workouts (stretching, calisthenics, running drills) start Monday, June 6. Monday thru Thursday, 6 am & 6 pm at Lawrence High School. The program is free. For more information, contact Bev Gardner.
May 30
A record crowd at the Home Run 5K at South Park this morning with over 400 competitors. There was a gunny sack race for the kids. Overall winners were Joe Moore (Keats, KS, and KC Smoke runner) and wife Trisha Moore in the women's competition. Photos | Results

runLawrence Fab Four at Amy Thompson 8K this morning: Dee Boeck, Laurie Comstock, Molly Wood and Celeste Leonardi.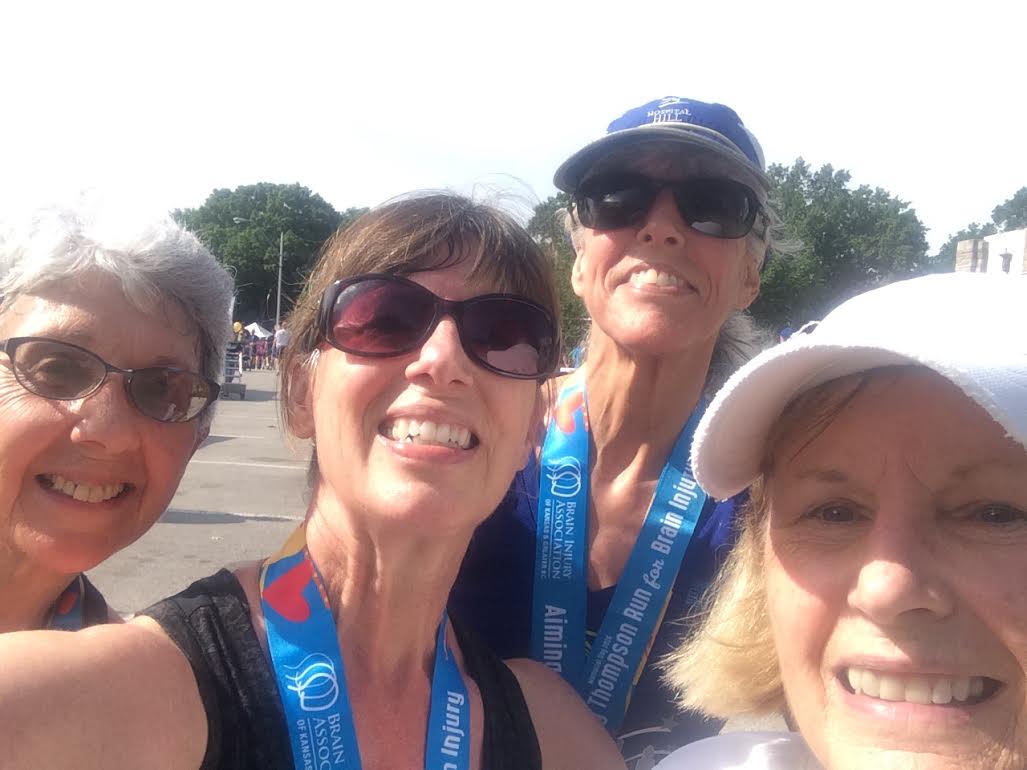 May 29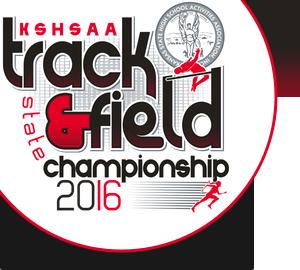 Congratulations to the local area schools making the top four places in their divisions at this year's state high school track and field championships: Baldwin Girls (1st - 4A), Lawrence Boys (2nd - 6A), DeSoto Boys (3rd - 4A), Basehor-Linwood Boys (4th - 4A).
State champs include:
Lawrence Girls 4x400 (6A) - Hannah Stewart, Evann Seratte, Myah Yoder, Kyleigh Severa),
Baldwin Girls 4x400 (4A) - Kyna Smith, Natalie Beiter, Fayth Peterson, Madeline Neufeld),
Baldwin Girls 4x800 (4A) - Addie Dick, Natalie Beiter, Fayth Peterson, Madeline Neufeld),
Amani Bledsoe, LHS (boys 6A shot put),
Ethan Donley, Free State (boys 6A 800 and 1600),
Dillion Grother, Oskaloosa (boys 3A 300 hurdles),
Callie Hicks, Free State (girls 6A pole vault),
Travis Hodge, DeSoto (boys 4A 800 and 1600),
Kelsey Kehl, Baldwin (girls 4A javelin),
Eric Scott, Basehor-Linwood (boys 4A triple jump),
Zach Strawn, Wellsville (boys 3A 400).
May 28
Last week the Lawrence Journal World included included the May newsletter for the "Lawrence Public Schools: Building Good Health & Boosting Brainpower." In the report from Pinckney Elementary, the annual Thanksgiving Day 5K hosted by RunLawrence was mentioned as a source of funding for their Pinckney Pacers running program. RunLawrence will host the 13th annual run on Nov 24th with proceeds to benefit numerous local marathon clubs and other programs for youth fitness.
May 27
A little pushy at the start of the men's 10000m at the NCAA Track & Field Championships West Prelims at Rock Chalk Park this morning.

May 23 - Walking to Rivendell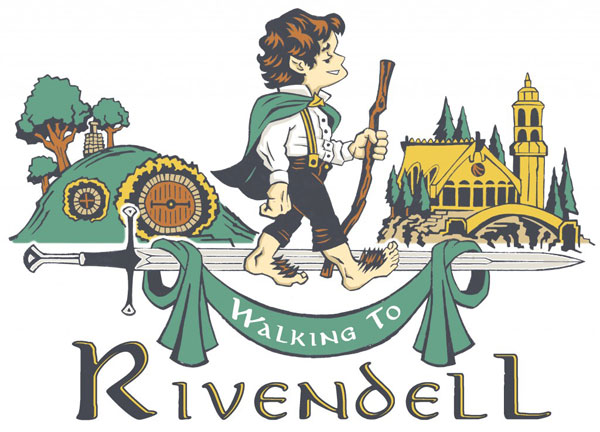 This summer make walking, running or biking part of every day, keep track of how far you travel, and then map your distance on the map of J.R.R. Tolkien's Middle-earth.  
Collect an achievement patch when you reach your goal distance. Plus, keep track of your fellow travelers by checking out the big map in the Lawrence Public Library.  Visit the library's website to sign up. It starts May 26th.
Make it all the way to Rivendell and you'll be entered into the grand prize drawing for a gift card to a local sports or fitness store. The program is sponsored by the Douglas County Communtiy Foundation and support by Ad Astra Running, Lawrence Re-Cyclery and the Lawrence Parks & Rec Department.