News
Oct 15
The Breast Cancer Awareness 5K and 10K started at Woody Park by Lawrence Memorial Hospital and was hosted by Garry Gribble's Running Sports.
Results | Photos
Oct 14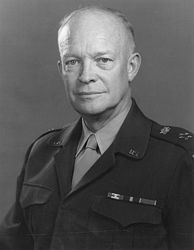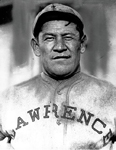 From runLawrence archives, Oct 14, 2007.
During a run on the Haskell campus in 2007, I remembered the birthdate of Dwight D. Eisenhower, and a connection with Jim Thorpe. more
Oct 11
Understanding Glycogen, Your Body's High-Performance Fuel
Put 100 runners around a pre-race dinner table, and they won't agree on much. Training talk may cause shouting matches; shoe talk could cause friends to come to blows over terms like "drop" and "stack height." But one thing most would agree on is what to eat—a big pasta buffet.
Pasta has earned its vaunted place at pre-race meals everywhere because of its impact on glycogen. You have probably heard the term "glycogen" bandied about before, and you may have even used it yourself when ordering your pre-race meal. more (by David Roche, Trail Runner, Oct 10, 2017)
Oct 5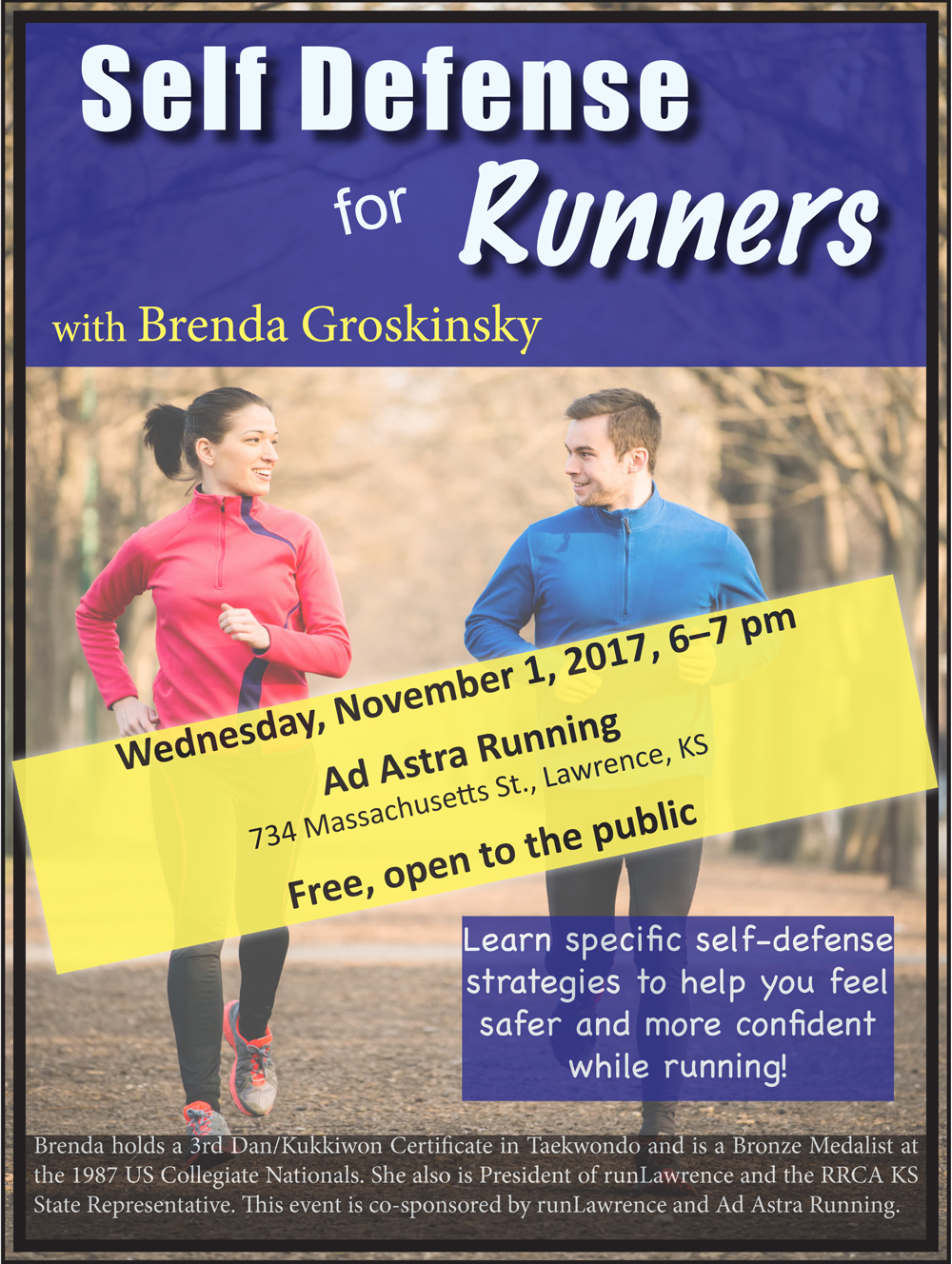 Self-Defense for Runners: Running alone or at quiet times of day or night can sometimes turn scary. On Wed, Nov 1st, runLawrence president Brenda Groskinsky will teach techniques you can use to stay safer and feel better on every run. Knowledge is power--be safe out there! 6 pm at Ad Astra Running.
Oct 3
Here's a report on the San Francisco Marathon from the Spanish language website ESPN Run. It gives you a good look on the course and people running it. A lot of comments in English.
Oct 2
How to Run Like a Girl. A women-only guide to running from the New York Times by Jen A. Miller. You'll find advice about the big and small challenges of running while female, and how women can get faster and stronger in spite of them. So ladies, grab the sports bra, lace up your sneakers and let's hit the road.
Congratulations to Greg Burger on his overall 2nd place finish at the Race to the Center Half Marathon, at Smith Center, KS on Sat, Sept 30. The first two places were claimed by M50-59 guys. Results
Oct 1
The Chocolate Festival Winged Foot 5K and 10K were held in Topeka at Forbes Field yesterday. Here's a video from last year's event. | 2017 Results |
Sep 30


The Mad Dogs at today's annual John Bunce Run. It's a predicted time race and the winner came within one second of her prediction. Mad Dogs and Englishmen is a running group composed mostly of KU professors but open to anyone. Runners meet Monday through Friday at noon at the east side of Robinson Gymnasium.
Sep 24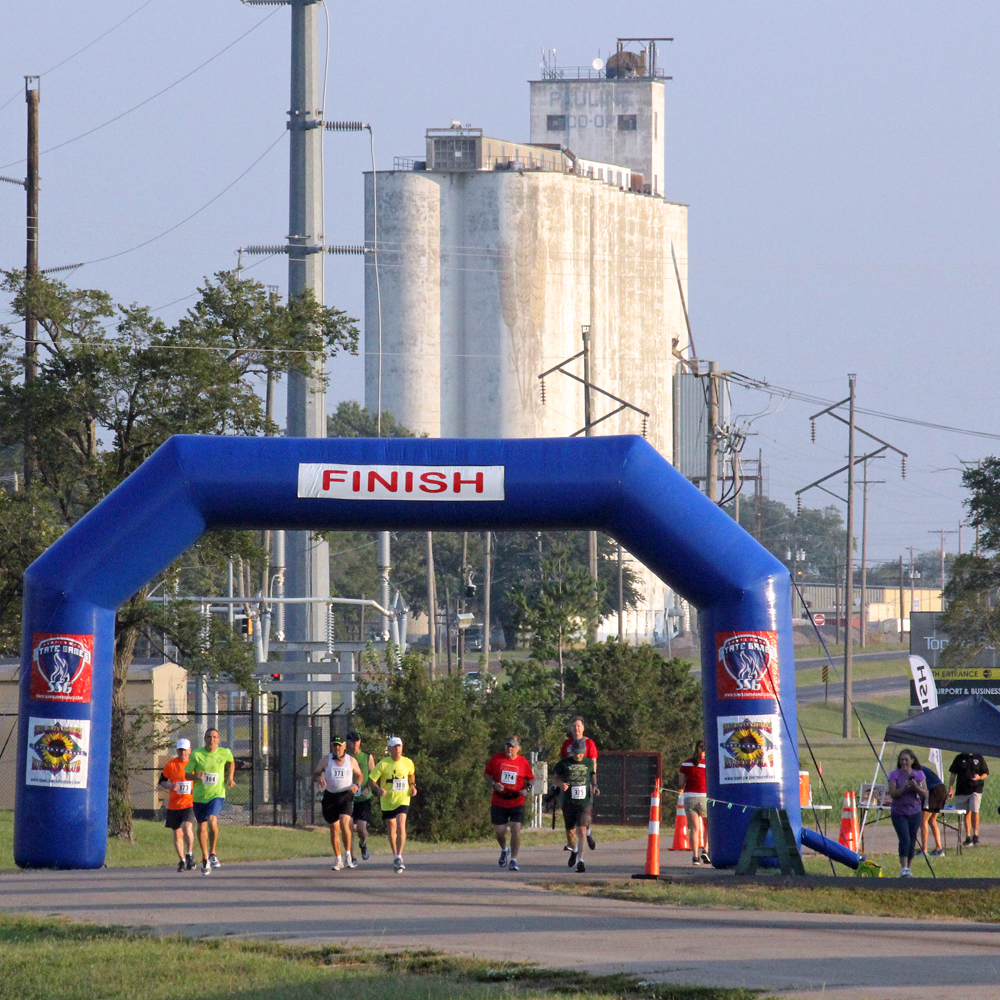 Kansas Senior Games 10K at Forbes Field.
Sep 16
Results from the Dr Bob Run at Rim Rock Farm this morning. Michael Zinser, KCMO, won the men's race while KC Smoke teammate, Kristen Brockhouse, won the women's race.
After passing away in June 2009, Dr. Bob's family established the Dr. Bob Frederick Scholarship Program in dedication to the financial support of graduate students studying Sport Management at the KU Department of Health, Sport & Exercise Science.

Sep 10
Lawrence's Zach Zarda won the Plaza 10K in Kansas City with a time of 30:37.3. Congrats to Zach and all the other local area medal winners: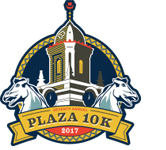 2nd F15-19 - Bailey Webb, Basehor 54:01
1st F20-24 - Sidney Hirsch, Lawrence 36:31
4th F20-24 - Emma Hauser, Lawrence 39:29
3rd F30-34 - Jennifer Kongs, Lawrence 42:13
1st F45-49 - Susie Fagan, Lawrence 45:11
2nd F55-59 - Melissa Spratt, Ottawa 51:55
4th F65-59 - Julie Shaftel, Lawrence 1:15:16

2nd M25-29 - Grant Catloth, Lawrence 37:01
4th M50-54 - Jerry Hill, Lawrence 41:25
1st M60-64 - John Blaser, De Soto 39:53
4th M70-74 - Joe Cronin, Topeka 59:09