I took first place in my age group (sort of) at the Midwest Mayhem Olympic Triathlon held July 19 at Lone Star Lake.
Well, it was not a first place swim, bike or run, but I placed first in the second transition area for my age group (M45-49) by one second!!
This is my second triathlon ever with the first one being this same event (Olympic distances: 1500 meters, 40k, 10k) in 2006. Unlike 2006, I did not follow a structured training plan. I thought my three marathons from April to June would give me enough endurance to complete this triathlon. The swimming training came from the swimming I did between marathons due to the ITB issues I was having. The bike training consisted of an 80 mile recreational ride on Jun 28th, a 60 mile ride on a limestone trail on my hybrid bike on July 11th, after which I ran a mile (for a brick workout) and a few others shorter rides. I also did a short swim, bike, run brick workout four days before the race.
Swim
Being this my weakest sport I swam in a very relaxed (and very slow) manner following the advice from some experienced triathletes. We started the swim going east into the sun. I used clear goggles so it was kind of difficult to see during this section. I started on the back of my wave expecting to be the slowest swimmer. An older lady (probably over 50) doing the breaststroke was beside me for the first third of the course and then she left me behind. I tried to keep close the buoys and I think I did a good job on this. I noticed a guy who frequently waded off course and although he was faster than me he ended behind me because he lose track of the course. At the midpoint my goggles were fogged, I stopped swimming, took them off and put them back. Problem solved. About 100 yards from the turnaround, I suddenly saw a guy in front of me, saw his goggles so I knew I was in trouble. We collided. He said "are you OK?" and I said "sorry". It turned out that he had veered off course on his way back. During the last stretch I pushed it a bit and passed about four guys.
Time 39:16 Overall 77/105 AG 8/13
T2: I forgot my bike's location and lost probably 20 seconds finding it. I put on a singlet and decided to bike with my running shoes (someone had borrowed my bike and I had put regular pedals for him and I decided not to put the clip pedals back for the tri).
Time 1:43 AG 8/13
Bike
I knew I had to bike hard to move up a few places. I think I ended passing around 25 people during the bike leg with noone passing me. My road bike is a cheap $150 one that I bought for $50 brand new at Goodwill about three and a half years ago. I think I am good going up hills and that is where I hammered the bike. On flats or downhill I can't go very fast because my front gears are not big enough. The course is pretty hilly and it is shown on the graph below.
Time 1:22:13 AVG 18.1 mph Overall 48/105 AG 7/13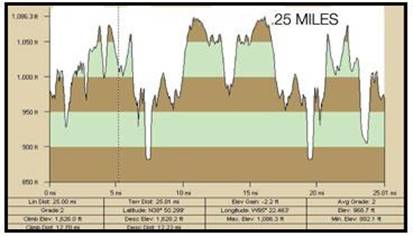 T2: I couldn't locate my bike spot again. I did not have to grab a race belt since I had already pinned my bib on the singlet I used for the bike leg. I did not have to change shoes.
Time 1:01 AG 1/13 AG YAY!!!
Run
This was supposed to be my strongest section. Mile 1 I ran slowly just to get my muscles loose. I did not use my Garmin just to save some seconds in transition. I think I ran 9 min for the first mile. I was behind a guy in the 30-35 AG. I stayed behind him until mile 3 when I attacked on a hill and passed him and two more guys. I few seconds after that, I heard steps and I push my pace until my heartrate was very high. I backed off and a guy whom I had not passed flew by. He said he took a wrong turn. A few seconds later three more "wrong turn guys" passed me. They were all younger so I don't worry too much. At mile 4 I thought, "c'mon this is not a marathon, it is a 10k, it is supposed to hurt", so I pushed my pace again until I was breathing heavily. Although I have run 10 marathons, I have only raced two 10ks and the last one was 2 years ago, so I did not remember quite well how it is supposed to feel. Anyways around 5.5 miles I backed off a bit because I realized sub 2:50 finsh time was not going to be possible. About 150 yards to go I sprint and get a guy who responds to my sprint. I go harder and he responds again. He beat me by a step but we were so close that our finish times were the same. The course was rather hilly. See elevation profile below.
Time 49:32 Pace 8:00 Overall 39/105 AG 6/13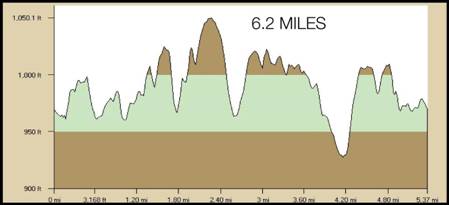 Total time 2:53:43 Overall 44/105 AG 7/13
I think I am done with Olympic distance triathlons. But I am not back to marathoning (yet) as I just registered for the Pigman Half Ironman August 16th in Iowa.
Thanks for reading.

Jorge Carvajal